At Mountain Springs
January 2023
Trek Schedule for 2023
Each year Mountain Springs provides some amazing trek experiences for our students. Many students feel these treks are a highlight of their time at Mountain Springs. This year we will be offering 5 different treks for students to choose from. This includes an International Trek to Costa Rica in October! We encourage our students to choose at least one trek to go on. Let the adventure for 2023 begin!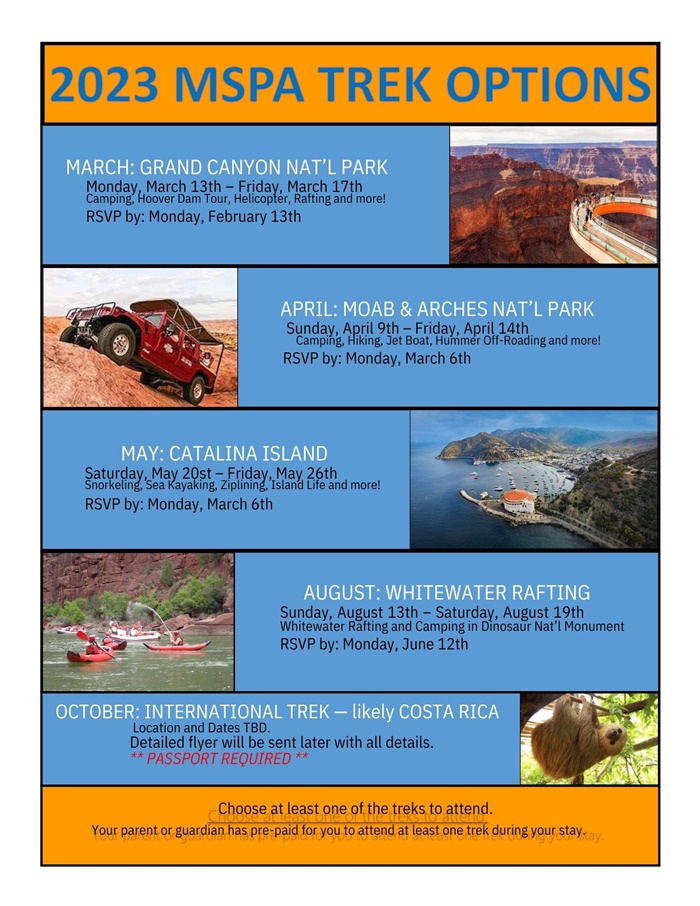 October 2022
Art Students Build Creative Bike Shed
We have long needed a shed to store student's bicycles. Our amazing art teacher, Carlie Hulet saw this need and along with her art students spent the late summer and early fall designing, building and painting a new bike shed. After the plans were developed and approved students under the direction of our facility maintainence team built the shed. Then plans went into place to paint the shed. Different artistic styles were discussed and students agreed they would utlize some landscape and some graffiti art. Students also wanted to share special words that convey positive emotions such as trust, family, freedom and think. In addition, students shared messages of encouragement. This wonderful shed is predominately seen as you enter our parking lot. We are thrilled how it turned out and the positive vibes it gives off. Thank you art students and especially thank you Carlie!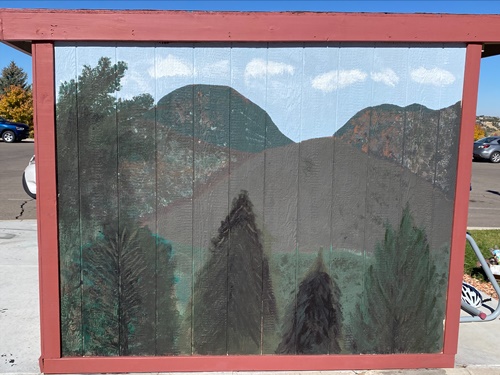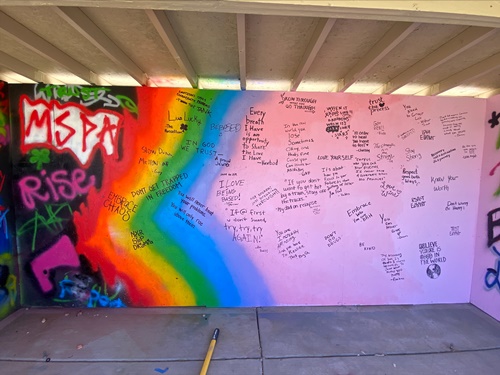 July 2022
Supporting our Parents with Education and Information
Most of the students who enroll at Mountain Springs Prep have completed some type of treatment. Students routinely have completed a wilderness program, residential treatment and often both before enrolling at Mountain Springs. Parents are used to working with therapists and program personnel as they have support their teen in treatment. While a student is at Mountain Springs, parents take a more direct parenting role during their child's stay at the school than they would in a residential treatment center or wilderness program. Mountain Springs prides itself in providing a transitional experience for the parents as well as the students, helping parents take back the reigns of the parenting process and decision making. Parents are generally anxious to take back the reigns and we want to support them in doing so. To assist our parents, Mountain Springs provides parent weekends, parent coaching and parent webinars. Parent Weekends are held once pere semester. These allow parents to meet with each administrator and teacher to discuss their student's academic and personal progress. Workshops run by local therapists and school administrators focus on parenting skills. Parent Coaching is provided through our amazing Advisors through weekly phone calls. Parents are very involved in the decision-making around solutions and consequences when their student makes a mistake or has a struggle at the school. Students are expected to be accountable to their parents for problems they are having and seek solutions with them. Mountain Springs teams up with the other CERTS Program to provide three parent webinars per month. Webinars include topics from effectively talking to your teen, to college applications, to self-care, to understanding the drug culture. All webinars are recorded and then stored on a channel where parents can watch them on demand as desired.
June 2022
Supporting Students As They Apply to College
As students at Mountain Springs are graduating and preparing for college, our faculty and advising staff provide them with direction and support. The college application process can be daunting! One of the many ways we support our Junior and Senior students is to provide instruction to them about filling out applications, writing college entrance essays and learning all they can about possible college choices. During June, our Assistant Executive Director, Ariel Rhoades, M.Ed. provided a class to our junior and senior students outlining what they can expect during the college application process. Ariel also discussed what students need to be doing as they scout out colleges and begin to fill out applications. Ariel followed this class for students, with a webinar for parents sharing information about how they can assist their student in the college application process. Ariel has spent many hours making sure she is up to date on the college application process. This knowledge is helpful to both our students and their parents.
May 2022
Scuba Diving for Spring Break
Who wouldn't want to spend a week on a live aboard diving boat, scuba diving and snorkeling around Catalina Island? We aren't sure, because our students had a blast! For Spring Break in May, our students had a wonderful opportunity to live aboard a dive boat. Each day was filled with fun water activities such as snorkeling, scuba diving, kayaking, paddle boarding and parasailing. Students were also able to swim with the sea lions and observe other marine animals and birds. This has long been one of the favorite treks. And why not?! Students prepare for this trek getting certified in scuba diving. This takes committment from the students. Scuba diving helps our students learn breathing techniques, mindfulness, planning, organizational skills and committment. It is wonderful to see them accomplish something like this. It is also wonderful to see them enjoy their success as they experience marine life up close and personal.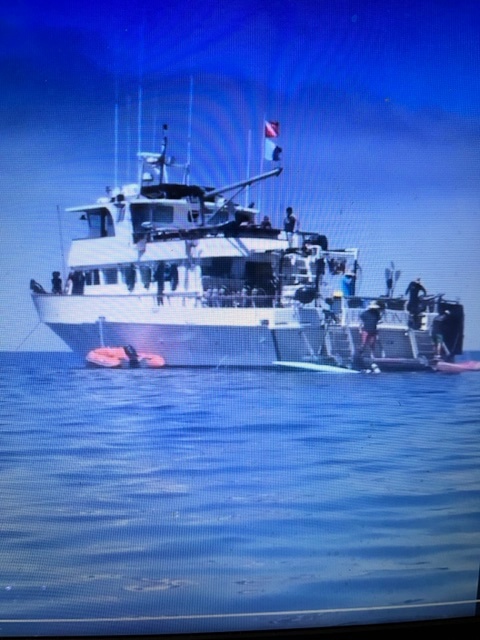 April 2022
Would You Like To Join Our Team?
We are looking for a few good mentors to work with our amazing students. Mentors are an integral part of our team. They supervise our students in their daily activities and provide coaching, assistance and support. We utilize a solution-focused model that allows students the opportunity to make choices (within a safe environment) and assess how much the students have internalized the skills they have learned in their prior treatment. Rather than using behavioral consequences with the students, our mentors utilize supportive relationships as the agent for encouraging change.
We are looking for people who care. People with a good attitude that are willing to give themselves to helping others. At Mountain Springs we are all mentors and teachers. This relationship is key to our philosophy.
March 2022
Welcoming Marcy Clark To Our Team
The CERTS Group is thrilled to announce that Marcy Clark has joined our team as our new Director of Marketing and Business Development. Marcy brings to CERTS a great amount of experience in helping families find their way through treatment and specifically the admission process. Marcy's warmth, dedication, and enthusiasm is readily felt by anyone who meets her. Our CERTS team is excited to welcome Marcy and looks forward to doing great things together as we continue to support teens and their families.
A LITTLE BIT ABOUT MARCY...
After raising her kids to the age of elementary school, Marcy decided to put some time and energy into being a part of something bigger. She started working as a mentor in a residential setting. Shortly after that she transitioned to the admission team and then to the position of Admissions Director. Marcy loves the journey of hearing the family stories and instilling hope in their future. Connecting with parents and referral partners from the very first call and still calling them friends, is what Marcy does best. Marcy loves spending time with her own family whether it be boating on the lake or finding a new trail to hike. Being surrounded by her husband and children is where she finds the most happiness.

A NOTE FROM TAWNY THOMAS, CERTS COO...
Believe me, saying I'm excited about Marcy joining CERTS is an understatement.

Of course it was hard losing Kris Archer as our Marketing guru. Kris brought all of her goodness and then some during the time she was with us. We are so grateful. But the universe provides - and Marcy walking into CERTS is making us even better!

Not only is Marcy's experience and expertise so very additive to what we do at CERTS, but Marcy's personality, way of being and obvious love for the families we serve is EXACTLY what we strive for in our four programs. We're looking forward to seeing all of you at upcoming conferences and visits. And you're sure to be excited to see Marcy!

Thank you for your support of our programs and teams. We are honored to serve.
February 2022
Twin Day at Mountain Springs
Our student council has done a marvelous job of planning theme days during the school year at Mountain Springs. We have had all kinds of fun days to promote school spirit. This past week, the students and staff participated in "Twin Day". Students and staff paired up in groups of two or three, with each group dressing identical. Everyone seemed to get in on the action. We had an Education Consultant tour our campus and he too dressed up as "twin" with our Admissions Director, Shawnale Wilson. We are so impressed with our Student Council. They have a goal to increase school spirit, improve peer relationships and help our student body and staff develop a connection with each other. We can't wait to see what they plan next!!!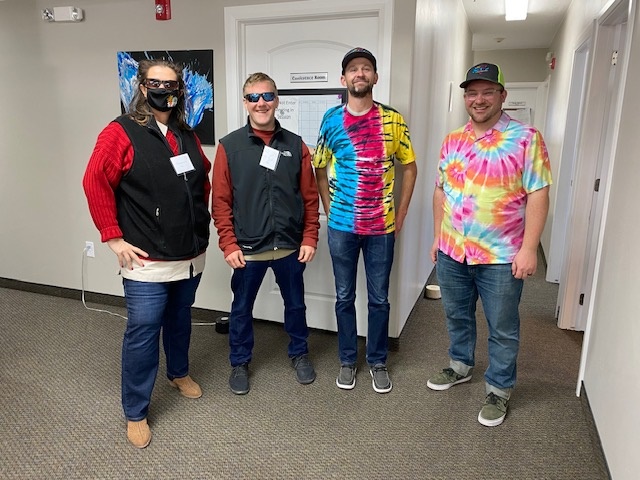 January 2022
Trek Schedule for 2022
We are excited to announce our Trek Schedule for 2022. We will be trekking to Joshua Tree National Park (hiking/climbing), Moab/Arches National Park (high adventure), Catalina Island (scuba/snorkeling), Whitewater Rafting and our International Trek--most likely to Costa Rica. Students should RSVP by the dates provided. We can't wait for the adventures to begin!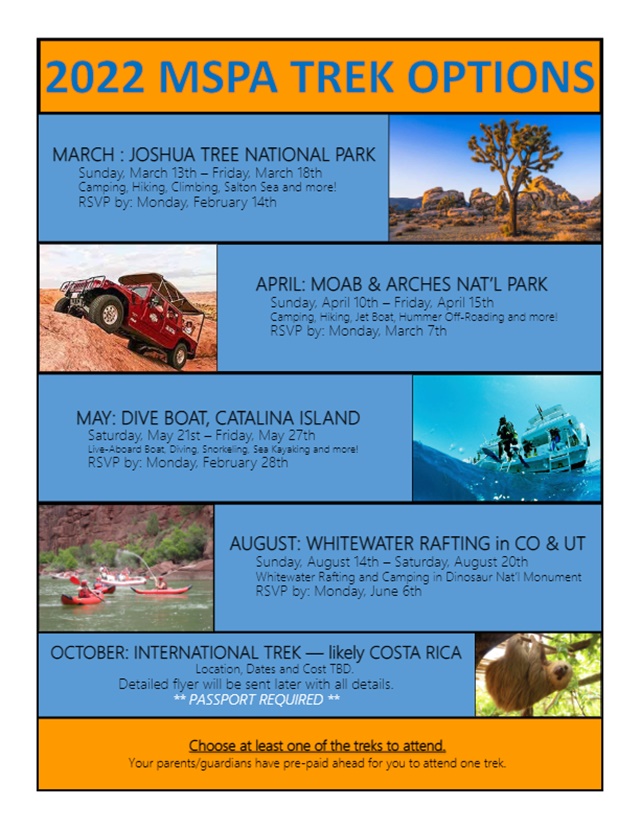 December 2021
2021 Was a Great Year!
As we finish up 2021, it is fun to look back and reflect on what the year has been for us at Mountain Springs Prep. We started 2021 enjoying our amazing new Student Activity Center. This beautiful new building that actually debuted in late 2020 has been a game changer for our students. They love hanging out together, playing pool, ping pong, air hockey, chess, board games or watching a movie in the movie theater. Students can also create their own music in the recording studio or create art in the art studio. And the patio with the amazing BBQ, and outdoor fireplace made our summer evenings a blast!
2021 also saw the return of travel after we had to take 2020 off due to Covid travel restrictions. Students and faculty enjoyed adventure treks to Joshua Tree National Park for some amazing hiking; Moab, UT for some awesome outdoor adventures; Catalina Island for some incredible scuba diving; and the Green River to run the rapids. To top the year off, we were thrilled to provide students with an international trek to Costa Rica. Spending fall break on the beaches and in the jungles of Costa Rica was truly a highlight. It was so exciting for us to provide these treks again and plan to continue them in 2022.
2021 also brought some staff changes. We were sad to see our former Academic Director, Dave Gardiner move onto new adventures of his own. He will be very missed. We are equally excited to welcome Becca Black as our new Academic Director. Her love of Mountain Springs and dedication to our students is felt by everyone. We also welcomed a new English teacher and a new nurse this year as well. Both Rebecca and Sam have brought their own sense of excitement to our campus and have made it a better place.
And as always, 2021 ended with students who are doing well in school and in their personal lives. With advisors and therapists working in tandem with our faculty, students grow in confidence. That is exactly what Mountain Springs is all about. We can't wait to see what 2022 has to offer!
November 2021
Announcing New Academic Director Becca Black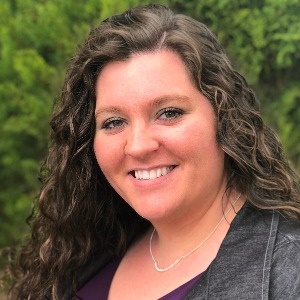 Mountain Springs is thrilled to announce Becca Black as our new Academic Director. Becca loves learning and teaching. She has a special way of connecting with her students. Becca is passionate about math and science and loves making these subjects fun for her students. Her own guilty pleasure is physics. She is dedicated to the growth of her students at Mountain Springs.
A Message from Jon Larsen
Executive Director


"We are so excited to have Becca step into this position as Academic Director at Mountain Springs. Becca has worked at Mountain Springs for a number of years and has been an integral part of the academic team here. She understands our vision and is enthusiastic about helping our teachers succeed and supporting the continued growth of our academic program. She is energetic, knowledgeable and has a strong working relationship with our students and their parents. We look forward to working with Becca as she develops in this new role."
October 2021
Fall Break Means Costa Rica Trek
Well we did it!!! We went on our first International Trek since Covid-19. Following all testing guidelines and mask mandates, we successfully flew to Costa Rica for Fall Break 2021. And boy are we glad that we did. Executive Director, Jon Larsen planned a stellar trek with adventures including kayaking, hiking, exploring, ziplining, with visits to La Paz Waterfall, Irazu Volcano, the Jaguar Rescue Center and the Caribbean Chocolate Factory. Let's not forget the beautiful beaches that our students enjoyed or the animals they encountered. Yes, we saw a sloth or two. So many experiences and so many memories. We simply couldn't ask for more.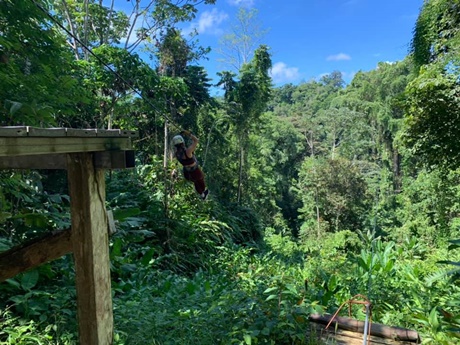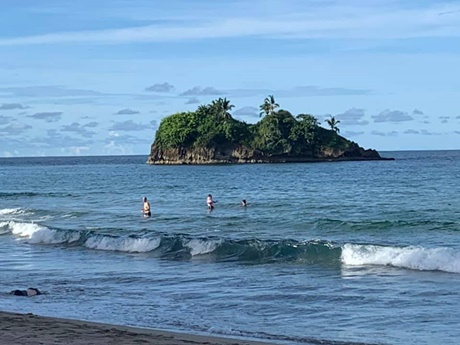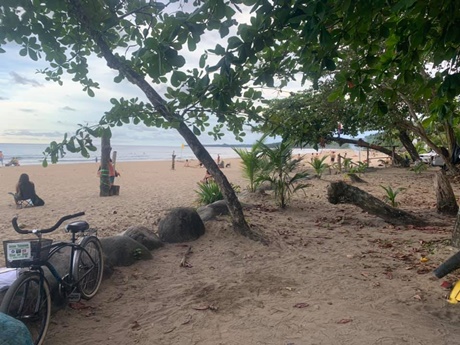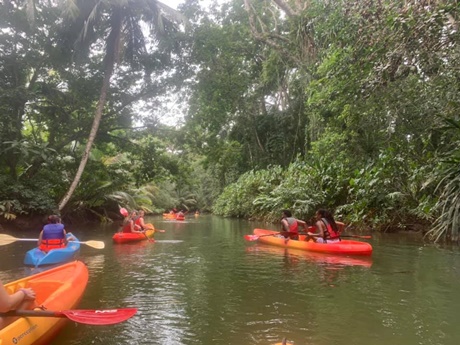 September 2021
Adventure Treks--It's What We Do Best at Mountain Springs

!
At Mountain Springs Preparatory Academy, we believe that travel is the great teacher. Our outstanding, formal classroom education is complimented by regular trips outside of the classroom to study in nature's classroom. Our students experience the wonders of nature and science on a regular basis. We call these amazing opportunities adventure treks.

Students spent their August break week on our annual river rafting adventure trek. This special trip took our students through the Gates of Lodore section of the Green River. Students traveled from Utah into Colorado through Dinosaur National Monument. Not only did students enjoy running rapids, swimming, and hiking, they also learned a bit about history, paleontology, ecology and geology. Friendships were deepened and new friendships made. In the words of the students, "This trip was outstanding!"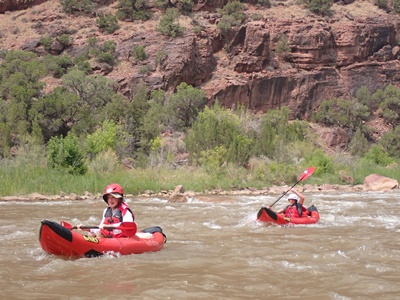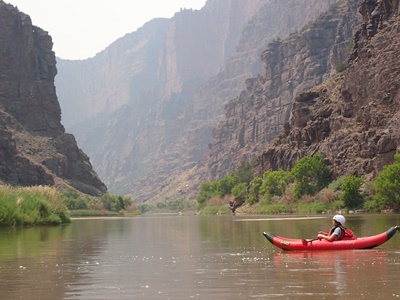 August 2021
Helping Students Gain Independence Through Off-Campus Therapy Services
Mountain

Springs

Preparatory Academy provides students the opportunity to practice the skills they have previously learned in an environment that more closely resembles "real life". We feel that allowing student autonomy while providing encouragement, support and assistance helps them gain skills to become successful young adults. This principle applies to therapy as well. At

Mountain

Springs

we are enthusiastic about the opportunity we give our students to access outpatient therapy. Some of the benefits include:
Students and parents make the decision who their therapist will be. Students interview different therapists until they choose who they want to work with. This allows students to be more invested in the process and find the therapist who is the best fit for them personality-wise.
Therapy can be as frequent and intense as needed. Each student's needs are different and some require more therapy per week than others. This can be individualized, including the frequency of family therapy appointments.
The therapists are not employed by

Mountain

Springs

so the students feel they have a true advocate for them during their stay at the school. There is a greater level of confidentiality that exists in the clinical process than what happens in a residential setting. The school and therapist acquire the necessary releases to discuss important issues and share information, but a large part of what is discussed in therapy is confidential for the student.
Because the therapy is outpatient, it provides practice for the student for when they return home and will have an outpatient therapist there. They have to practice being more assertive, bringing an agenda to therapy and being invested in the therapeutic process.
Therapists attend (in person or by telephone) weekly school board meetings with key administrators from

Mountain

Springs

, where student needs, concerns and issues are addressed. Therapists also complete a section in our monthly progress report that is sent out to parents and reviewed with the student.
July 2021
Mountain Springs Earns Approval as a Nonprofit Agency in the State of Washington
So what does this mean for your student? If you are the parents of a student from the state of Washington, this could make a big difference. In the State of Washington, if a student's special education needs cannot be met by their home district, the district may contract with an approved Nonpublic Agency (NPA) like Mountain Springs to provide academic services. Mountain Springs would provide the student's special education and related services that are determined through the Individualized Education Program (IEP) process. AND this is done at a cost to the school district and not to the student's family. Mountain Springs is thrilled to be approved to help families from the state of Washington in this way.
Education at Mountain Springs Preparatory Academy combines the best of traditional education with a unique emphasis on building self-esteem and addressing core issues. Some of the highlights of the academic program at Mountain Springs are:
Superb teacher to student ratios (average 1:6 teacher to student ratio) that provide the one-on-one best suited for this type of student
Fully-accredited academic program (by Cognia)
Outstanding college-prep curriculum that is taught through learning and teaching techniques best suited for this type of student (direct instruction from a certified teacher with lots of opportunity for "hands-on" learning)
A customized education plan
Opportunities for some students to enroll at Southern Utah University and take college level classes as a concurrent enrollment student
Classes take place on campus with access to the teachers during regular study hall hours
Specialized teachers who are passionate about what they teach and, therefore, who produce students who say things like, "I've never liked math before now!"
SAT/ACT preparation and testing
Opportunities to accelerate students' coursework to help them get caught up or graduate on time. In addition, opportunities exist to make up deficient grades
College entrance preparation and application assistance
Career exploration and vocational internships
June 2021
Exciting Changes at the CERTS Group
The CERTS Group leadership is shifting in ways that will only make us more effective in helping with our student's including those students at Mountain Springs Preparatory Academy with their healing journeys.
Majority Owner, Kent Tasso founded CERTS in 2002, opening Kolob Canyon Residential, and slowly adding Mountain Springs Preparatory Academy, Moonridge Academy and La Europa Academy over the next few years. We have built small, sincere, effective and loving programs with intensive therapy and top level programming provided by the best in the field! To improve the operations of the CERTS Group, Kent has promoted Tawny Thomas to the role of CERTS Chief Operating Officer. Tawny joined CERTS in 2008 as Executive Director of Kolob Canyon and Moonridge Academy and more recently has served as CERTS Outreach and Program Development. As COO, she will continue to support the leadership of our programs and take a more primary role in ensuring we are providing the best care to our clients at each program. As Tawny takes over the day to day program oversight, Kent will still stay involved in CERTS, and particularly in manning the CERTS Foundation, our nonprofit fundraising organization that provides needed scholarships to families. With Tawny's stepping in as COO, there's another exciting announcement!

With Tawny's stepping in as COO, there's another exciting announcement! Kris Archer has joined our team as the CERTS Marketing and Outreach Director. Everyone knows Kris, she has been a light and force for good in so many ways within the treatment community - and we're so happy to have her hitting the road, educating others and sharing the good work happening at Kolob, Moonridge, La Europa, and Mountain Springs!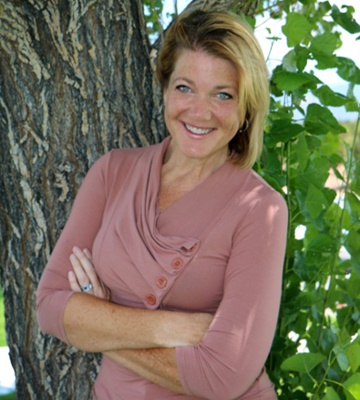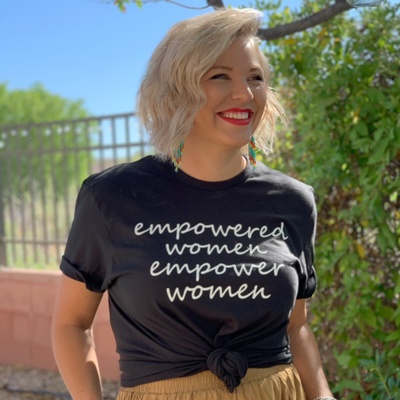 May 2021
Scuba Diving Trek
Why a Scuba Diving Trek? Well, who doesn't want to live on a boat for 7 days with amazing catered meals, a sun deck to lounge on, and all the water play toys you can imagine? Not to mention literally playing with the sea lions in the water, seeing the incredible marine life 40 feet underwater, whatle watching, and parasailing 600 feet in the air? All with your friends. It's a no brainer!
But it goes beyond that. Training our Mountain Springs students in scuba diving is some pretty clever back door therapy, that includes deep dives into the skills of:
Emotional and physical regulation
Breathing techniques
Commitment to safety
Planning and preparedness for "what if's"
Using relationships for connection and enjoyment as well as safety
Appreciation for nature and the environment
To certify in scuba diving, our students participate in weeks of classes, then pool training and finally open water tests to make sure they can safely employ what they have learned. What a concept. Deep learning, lots of practice, a team helping you, and then finally launching into the ocean (but still with buddies and support)! Much like student's transitioning from wilderness or RTC (deep learning) into Mountain Springs (practice and team), and then truly being prepared to launch home or to college. See? We've thought this through. (and diving with sea lions is epic).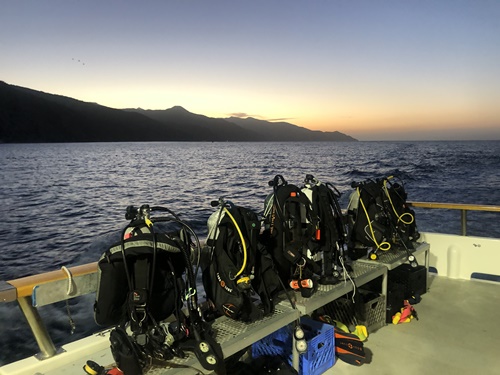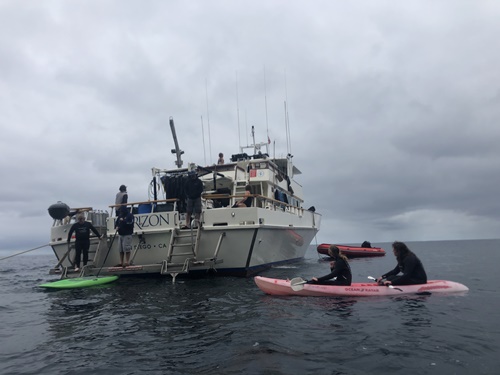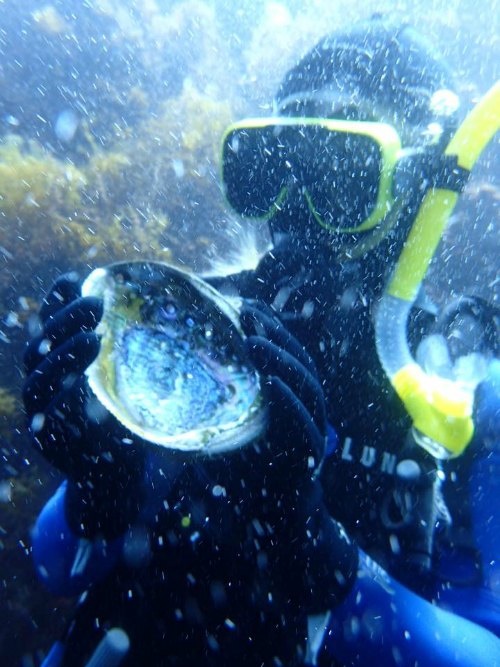 April 2021
Moab Adventure Trek
Each of the offered treks at Mountain Springs Prep provide our students with different experiences and opportunities. Some treks are educational in scope providing students a chance to expand their understanding of the world around them. Some treks provide students with the chance to learn new skills and see new places. Others are just pure recreation allowing students time to have fun, connect, and recharge. Students at Mountain Springs just returned from such a trip to Moab, UT. This amazing week was filled with adventures such as rappelling, jeep crawling, swimming, hiking and riding in power boats on the Colorado River. Not a bad way to spend Spring Break!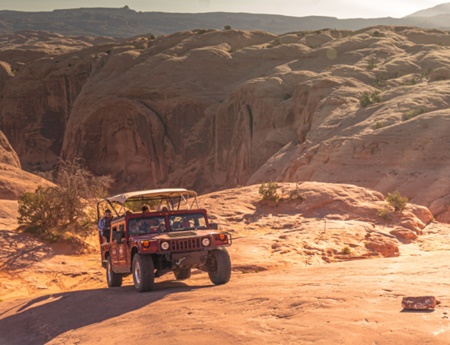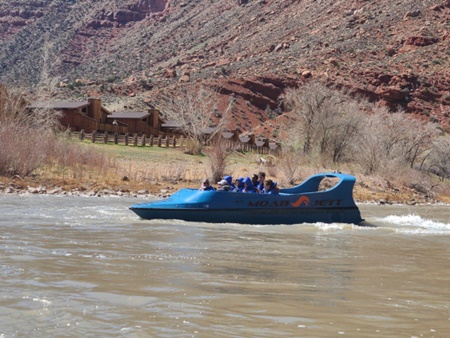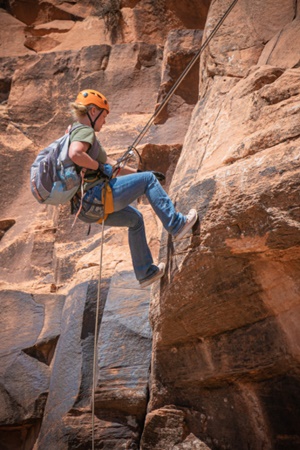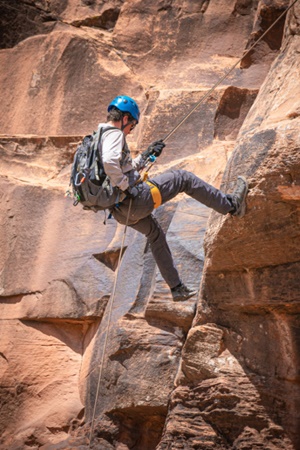 March 2021
Joshua Tree National Park Trek
Each year students at Mountain Springs are given the opportunity to participate in a number of school treks. In 2020 with Covid-19 guidelines, students were not able to go on some of the planned treks. In 2021 the Management and Advising Teams determined to plan treks that could occur even if Covid-19 guidelines remained intact. Treks have been planned that will include outdoor adventure, recreation opportunities and even some leisure. This month students were able to go on a trek to Josha Tree National Park. This trek was all about outdoor leisure with an emphasis placed on camping, good food, enjoying the scenery, and being mindful of the surrounding beauty. Students did a half day of guided climbing in the park which was an activity that everyone seemed to enjoy. They also ventured down to the Salton Sea, Salvation Mountain, and into Slab City where students had reserved access to an art community. Students spent time hiking and relaxing in hammocks. With Joshua Tree being a designated as an International Dark Sky Park, star gazing and enjoiying the beauty of the night sky was also a focus. Having the opportunity to commune with nature is just what you need. Thank you to Advisor Greg Allred for all of his hard work planning this wonderful trek.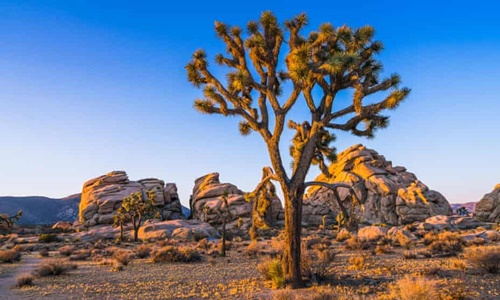 February 2021
Mountain Springs Announces Expansion of Bridge Program
We are excited to announce a change to our Bridge to Independence Program. Students who are 18 years old and who are already involved in a transition program can now enroll directly into the program. The Bridge to Independence Program provides an immersive environment for students to experience increasing levels of self-initiative, responsibility and independence in their lives. All of this while maintaining receptivity to mentorship and skill-building as a young adult. In the past our Bridge Program has been a continuation and enhancement of the Mountain Springs experience and was not considered a stand alone program. This program was only open to students who have been enrolled at Mountain Springs. We are now extending this opportunity to 18 year old students who have been involved in a transitional program as part of their RTC experience or a step down program post RTC and would like to move towards more independence in a different setting. These students can now enroll directly into the Bridge Program without first spending time as a student on the main Mountain Springs campus. This is a great opportunity for students who would like to work in the community and/or attend college classes while living on their own with some level of support.

This expansion of the Bridge Program mission will occur simultaneously with the continuation of services for students already enrolled at Mountain Springs. Students enrolled will still be able to apply to the Bridge Program when they:


Have demonstrated leadership and are self-governing their actions while enrolled at Mountain Springs Prep
Are at least 17 years old
Are currently a senior in high school
Have a job or are volunteering in the community (as Covid-19 allows)
January 2021
Covid-19 Updates
"We are in this together--And we will get through this together"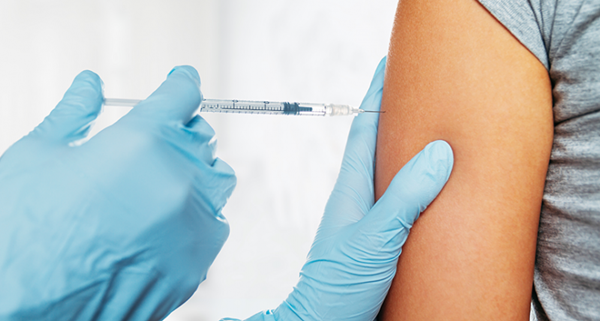 Mountain Springs Preparatory Academy is excited to announce that we have started the process of Covid-19 vaccination! Most of our advising and academic team members have received the first of two vaccinations. Our mentoring staff has also been able to start with vaccinations as well. This process will continue in a few weeks when many staff will receive their second vaccination. We feel so fortunate that the state of Utah has considered our staff to be essential workers who have a higher priority to receive the vaccine. We are happy to be contributing to a healthy, safe and hopefully more "normal" 2021.
In the meantime, we will continue with the Covid-19 guidelines that we have successfully had in place at our programs throughout the pandemic:
All students are encouraged to wear masks in the classrooms and when not in their dorms. All employees are required to wear masks.
Social distancing is always encouraged.
Frequent handwashing and disinfecting surfaces is just a way of life now.
Newly admitting students are tested for Covid-19.
Symptomatic and positive Covid-19 students are immediately quarantined as per CDC guidelines.
Frequent tests are administered on all students and employees whenever we have encountered a positive case to quickly reduce further spread.
If an employee tests positive, they immediately quarantine at home for the recommended 10-14 days before being cleared to return to work.
Students have been able to seamlessly continue with their schooling and therapy through online platforms, even when in quarantine.
Our off-campus activity options are always being adjusted as necessary, as dictated by local levels of outbreak and CDC recommendations. We have been able to continue with many of our adventure and recreation activities.
Parent visits and home visits have enhanced testing and quarantining requirements to help increase the safety of everyone.
None of us could have ever predicted the curve balls of Covid-19. We are excited for a healthier 2021!
December 2020
Looking Back on the Year
To say that 2020 has been an interesting year would be a dramatic understatment. The Covid-19 Pandemic has certainly changed the way we all interact with each other and with the community around us. At Mountain Springs we tried to keep things as normal as we could for our students. With appropriate guidelines and protocols, our students continued to attend regular classes with their teachers and peers. This was a big plus for most of our students who only had a virtual option for school if they were living at home and going to school there. So many of our students knew they would struggle with only a virtual option. After the initial period of community shutdown from March-May, many of our students were able to return to their community jobs. Others were able to return to volunteering opportunities in a limited capacity. Sadly we cancelled our International Trek in March due to travel restrictions. We also had to cancel our Catalina Trek in May due to the challenges of Covid. Keeping our students and staff safe and healthy is always our number one priority. After much deliberation, our River Trek did take place in August. We felt that this was a safe opportunity given that our students and staff would be outside and our group would be by themselves as we rafted the Green River. We are so glad we went because our students had such a wonderful time! In October we were also able to take an Adventure Trek to Moab and Arches National Park. We planned this Trek to replace the Cataline Trek that was canceled in May. Once again we felt that we would be able to keep our students and staff healthy on the Moab Trek because all activities occured outside and we were able to keep our students distanced from others. Our students thoroughly enjoyed themselves camping, hiking, canyoneering and rafting.
The biggest accomplishment in 2020 was the completion and Grand Opening of our new Student Activity Center! Due to some challenges with construction materials and Covid concerns the building completion was pushed back from June to November. We all anxiously watched as the construction contractors completed each step. Our students are so thrilled with this stunningly beautiful 6500 square foot building that provides a large common area for hanging out and games. Students also now have the advantage of watching movies in our own large theater. Students can also create in our massive art studio and intimate recording studio. The building couldn't have come at a better time--allowing our students chances to relax and build friendships on our campus when access to community options is still a bit curtailed with increased Covid restrictions in place this fall and winter.
November 2020
A Sneak Peak of Our New Student Activity Center
We are putting the final touches on our new Student Activity Center! And the timing couldn't be more perfect! As the pandemic continues to cause us to maintain guidelines to ensure student safety, it is so nice to have a new space for students to hang out, watch a movie, create art pieces, play their instruments and participate in extracurricular activities. We are finalizing the decor and adding those finishing touches to make the building "just right". While we anticipated a big ribbon cutting ceremony that included parents, students, staff and even the public, with Covid that will need to wait for now. We are however excited for a softer opening for our students and staff. It is like an early holiday gift!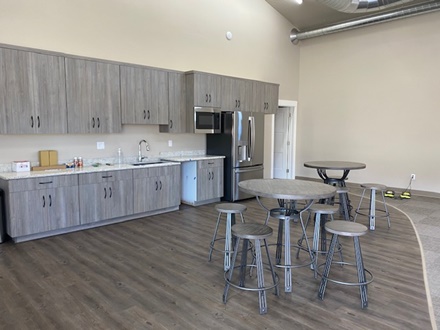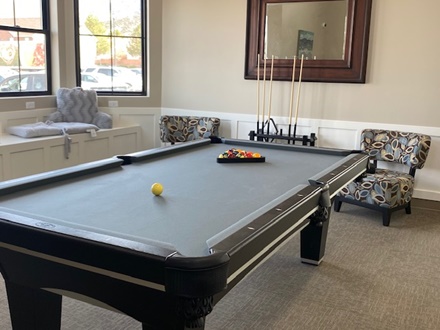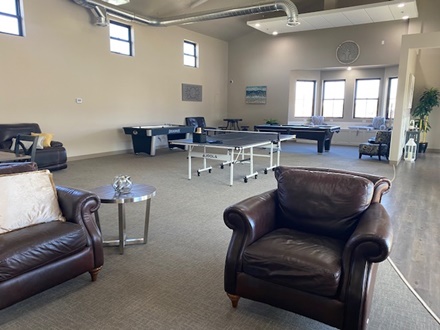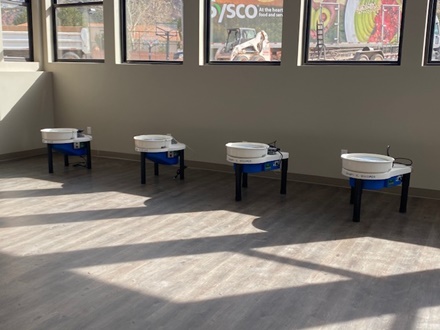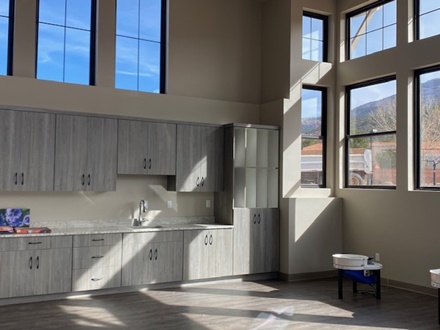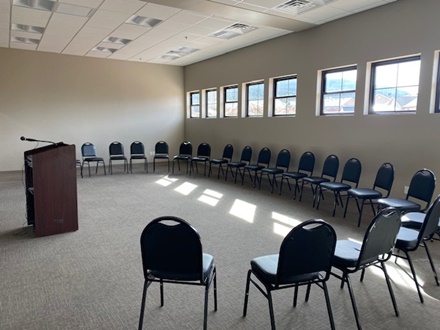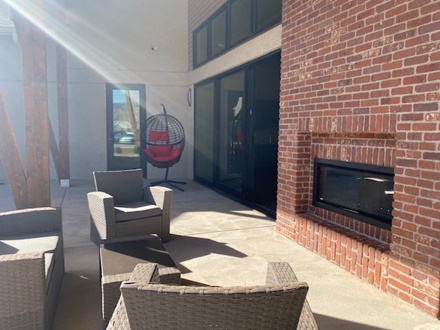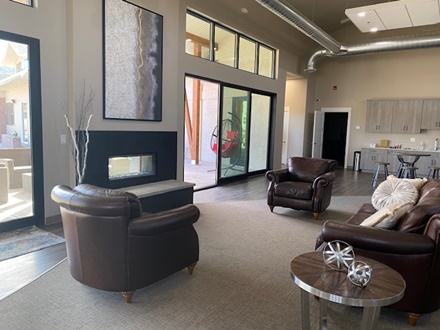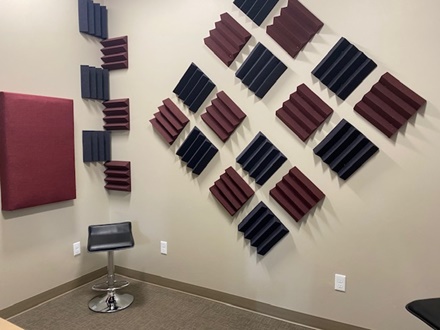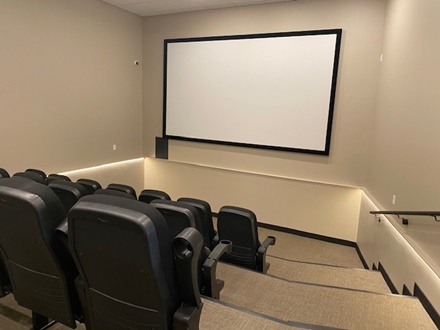 October 2020
Treks During Covid-19
Each year Mountain Springs provides a total of four treks for our students--an International Trek in the early spring, a Scuba Trek to Catalina Island in May, a Whitewater River Trek in August and a Washington DC Trek in the fall. We feel that these treks provide a way for our students to experience the world outside of the classroom. At Mountain Springs it is our commitment to provide students with as much of a normal school experience as possible during Covid. Like so many other things, Covid-19 changed our usual treks for this year. The International Trek was cancelled just days before we were scheduled to leave and the Scuba Trek was also postponed in the hopes of moving it to the fall. With much consideration, we were able to take the Whitewater River Trek in August. Our river guides assured us that we would be on the river away from people and in a group with just our students and staff to ensure the safety of all. We had a marvelous time! It was just what many of our students needed--an adventure experience where they learned about geology, history AND had quite a bit of fun.

This fall we once again debated our Scuba Trek to Catalina Island and for obvious reasons determined not to go ahead with it. We felt bad for our students who look forward to these opportunities. We decided that another camping type of trek might be just the answer. Why not?....with the beauty of Utah all around us. We are excited that in October we will be taking our students on an amazing trip to Moab, UT. This Moab Trek will include hiking in the beauty of Arches National Park, canyoneering, an ATV adventure
and so much more..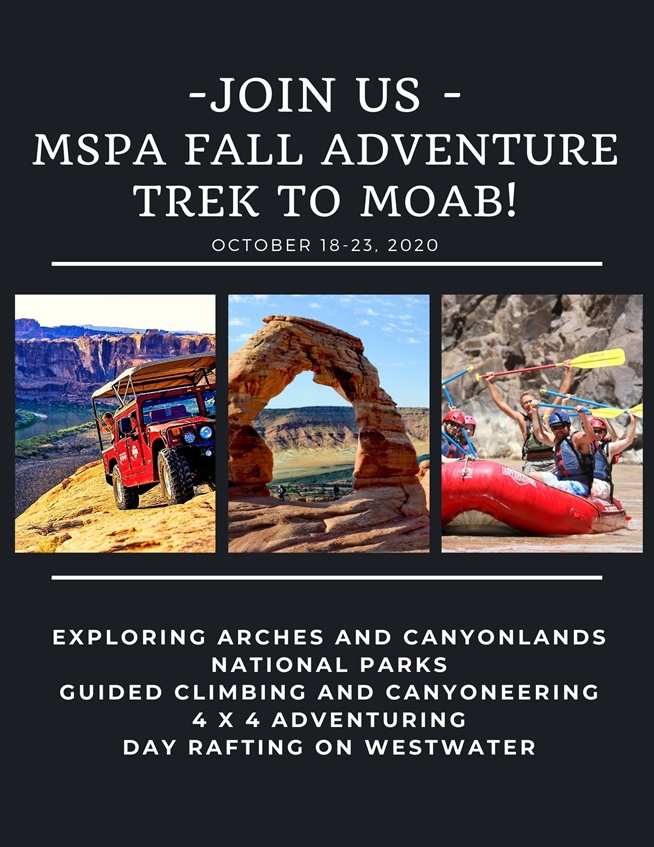 Septemberr 2020
Carrying On With Covid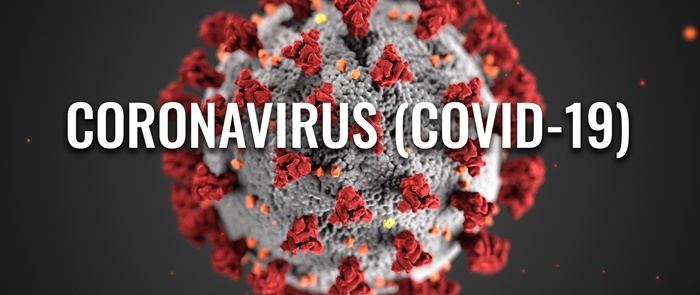 By this time there are probably very few treatment programs that haven't been directly touched by Covid-19, whether in students or employees. And it's a situation we've all had to quickly learn to prevent, address, respond to, and manage. The collaboration and support between NATSAP programs has been inspiring as everyone is navigating this together. Even at Mountain Springs, we've encountered some students and staff contracting the virus, despite high levels of precautions - and we're so thankful that each incident has cleared quickly and without issue.
Here is what we have learned and what we've done...
In most instances, positive cases were completely asymptomatic or at most had very mild cold symptoms for 1-2 days, so detection can be challenging.
All students are encouraged to wear masks. when outside of the dorms. All employees are required to wear masks.
Social distancing is always encouraged.
Frequent handwashing and disinfecting surfaces is just a way of life now.
Symptomatic and positive Covid students are immediately quarantined as per CDC guidelines.
We have been able to section off areas of the dorms and/or the Bridge Houses for safe quarantining with good ventilation, meal deliveries, etc.
Frequent tests area administered on all students and employees whenever we have encountered a positive case to quickly reduce further spread.
If an employee tests positive, they immediately quarantine at home for the recommended 10-14 days before being cleared to return to work.
Student have been able to seamlessly continue with their schooling and therapy through online platforms, even when in quarantine.
Our off-campus activity options are always being adjusted as necessary, as dictated by local levels of outbreak and CDC recommendations.
Parent visits and home visits have enhanced testing and quarantining requirements to help increase the safety of everyone.
And With All of This....
Mountain Springs has been able to continue safely admitting new students, and we have had overwhelmingly positive feedback from our parents on our handing and communication with the pandemic. None of us could have ever predicted the curve balls of 2020, but we're pretty proud of how it's going!
August 2020
River Trip Trek
Each August during our summer school break, Mountain Springs Prep participates in their annual River Trip Trek. Initially there was a question if we would be able to go on this Trek due to Covid-19 concerns. After much discussion our Administrative Team determined that being outside--adventuring on the beautiful Green River--was exactly what we needed to do. Students and staff were in their own river group and were not exposed to any other individuals except for our river guides who are tested regularly for Covid-19. For many of our students this was their first opportunity to run a river. And what an experience it was! The Green River is beautiful and students enjoyed the amazing views, swimming in waterfalls, good river food, playing on the beach in the evenings, hiking and swimming. Students were able to both ride in larger rafts and navigate in smaller duckies (kayak like boats). With Dinosaur National Monument located close by, this trip was both fun and educational as students learned about the the geology, palentology and history of the area.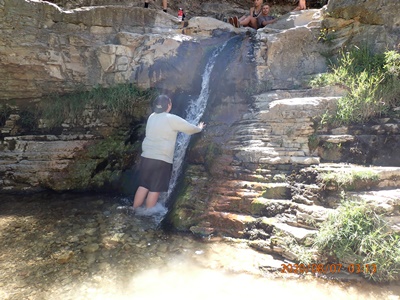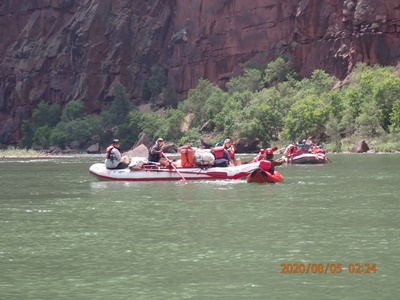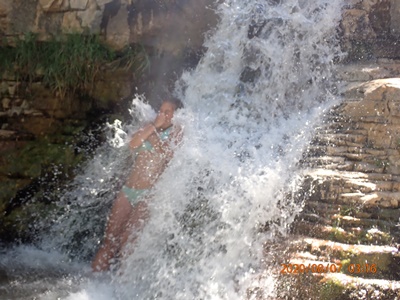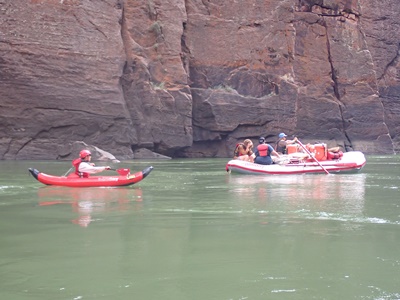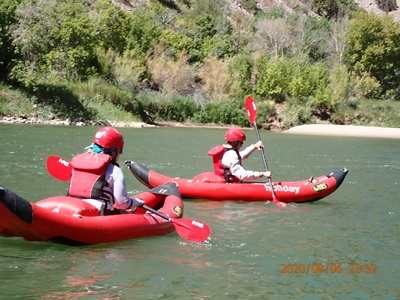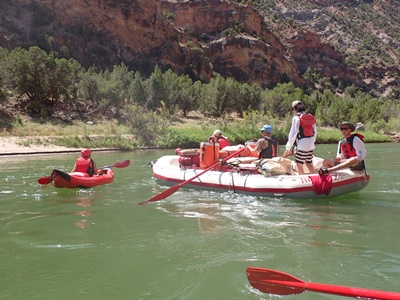 July 2020
Covid-19 Updates, Protocols and Guidelines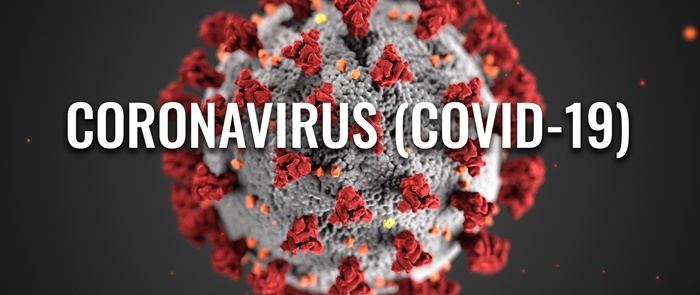 Mountain Springs Preparatory Academy takes the safety and health of our students, their families and our staff very seriously. During Covid-19 we have done our best to follow the direction of CDC and our local health department. As recommendations have changed we have modified our own guidelines and protocols. As of July 30, 2020 our Covid-19 Procedures and Protocols include the following:
No students or staff to date that have tested positive for Covid-19.
Executive Director participates in weekly Covid mitigation meetings.
Providing Virtual Tours for perspective parents.
All new admits are tested before entry and will enroll when they receive a negative test result.
Students are instructed to wear masks when they are off campus.
Staff are wearing masks when around students.
Social distancing measures in milieu as appropriate.
Temperature check daily for staff.
We contract with a lab in St George to provide Covid-19 tests. This lab provides students, staff, and parents saliva testing with generally less than 24 hour turnaround on results.
Students going to local and home visits are subject to testing with negative results in order to re-enter campus.
We have an off campus quarantine house for any student who is symptomatic, until cleared, as well as for isolating a positive covid case.
Students now have more access to community in jobs and activity privileges, therefore more exposure is a potential. We are constantly adjusting to to state guidelines with increasing or decreasing community access.
June 2020
Progress on Our New Student Activity Center
We are so excited about our new Student Activity Center. For many months we have watched as Choice Builders has built this incredible new addition to our campus. We anticipate a Grand Opening in late August. With over 6500 sq feet, this modern craftsman building will provide our students with a large multipurpose room where we will have a pool table, ping pong table and couches for students to hang out. The centerpiece of this room is a large two way fireplace that enhances this room and the patio space outside. The new movie theater will be a wonderful place to screen movies, while another open room will give the students space to do yoga and meditate, and meet for community group discussions. A music room and recording studio will allow students to create their own music alone or together. The showcase of this beautiful new building is the large art studio. The windows in this room will provide natural light for for students to sketch and paint. A kiln will complete this room allowing students who enjoy working with ceramics to do so. Outside a large patio area will complete the building. This building will do so much to enhance the lives of our students and our campus.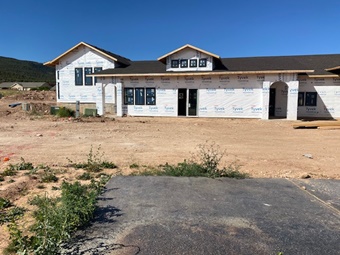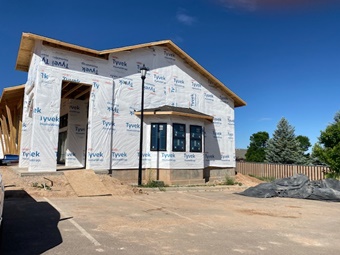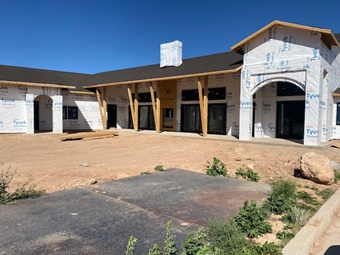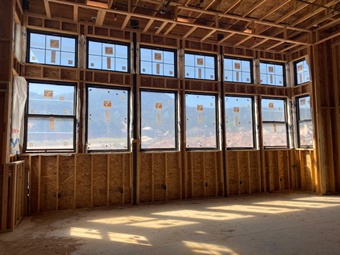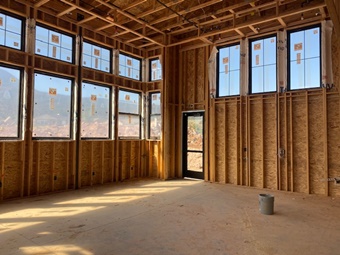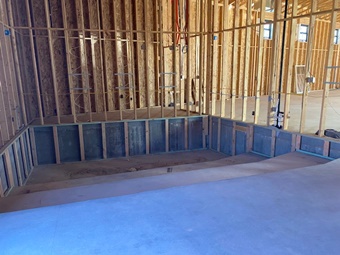 May 2020
Accepting Donations for New Student Activities Center
Mountain Springs is looking forward to the Student Activity Center that is being built on our campus. We anticipate the Grand Opening this coming August 2020. This amazing new building with over 6500 square feet will add rooms for our students to create, concentrate on school work, hang out, and participate in fun student centered activities. We are excited to elevate the overall student experience at Mountain Springs!
As we near the completion of this amazing new campus addition, we are seeking donations to help towards the cost of special additions to this new building that will enhance the lives of our students. Many of our students, alumni, current parents and alumni parents have been such a big part of making Mountain Springs the school and program that it is today. Their legacy matters to the current students and future students.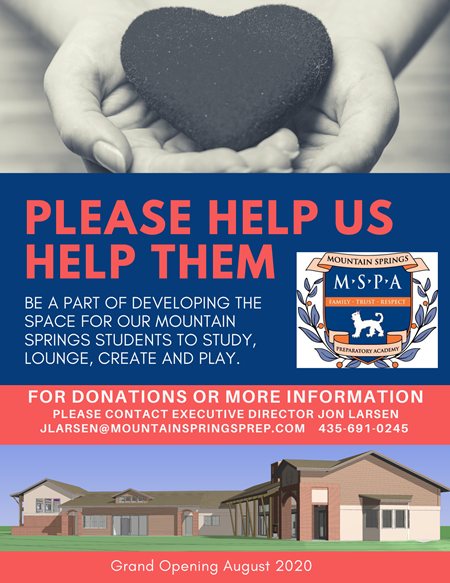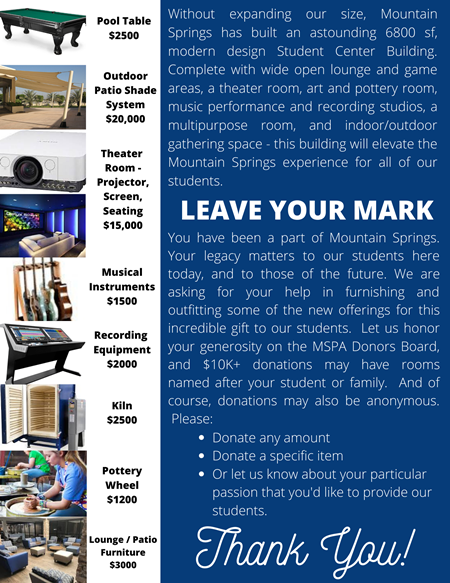 April 2020
Providing Parent Support During Covid-19
Most of us are feeling some level of stress during this period of Covid-19. That is to be expected right now. Depending on your situation and where you live, you might be social distancing, self-quarantining, working from home, taking care of children not in school AND elderly parents in your home. Even though they are receiving excellent care, it would be difficult to have a child away from home in a supportive environment such as Mountain Springs when there is so much uncertainty. It is easy to feel overwhelmed and a bit out of control. You aren't alone! We hear you and want to help provide some parent support. The good news is that the CERTS Programs including Mountain Springs have some wonderful on demand webinars that can provide parents with much needed connection, information and support.
March 2020
Mountain Springs Makes Exciting Changes to our Team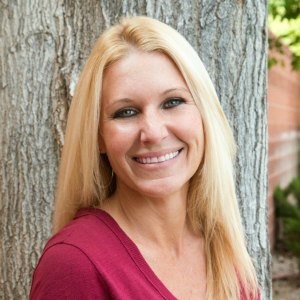 To better serve and support our students, Mountain Springs Prep has made some purposeful staff changes. Wendi Tullis who has been with Mountain Springs since 2012, has become our Program Director. This new position was created to provide direction, training and support for our mentor staff and most specifically our students. We are excited for Wendi to accept this position. Her organization and communication skills along with her firm understanding of what is important at Mountain Springs will provide exceptional leadership. Wendi began her career at Mountain Springs Preparatory Academy. She was the morning Team Leader, then transitioned to Staff Director, and most recently was an Advisor. Wendi has always enjoyed working with youth and watching them grow and find happiness within themselves. Wendi feels very grateful to have the opportunity to be involved with Mountain Springs and is passionate about helping youth become the best they can be. Outside of work Wendi stays very busy with her own 4 teenagers. She enjoys watching her kids play sports and going to all of their high school games, camping and going on hunting trips, and also spending time on the boat at the lake with her friends and family.
Cristina Clerico comes to Mountain Springs Team as our newest Advisor. We are so excited to have her join our team! Cristina Clerico was raised in the Salt Lake Valley and received a Bachelor of Science degree in Special Education and Interdisciplinary Studies from Utah State University. She loves working with adolescents and has been coaching young people and families for nearly 15 years in Utah, Oregon, and Missouri. Cristina is a certified coach, mindfulness meditation teacher and parenting educator, and has served as a volunteer mediator and youth writer's group mentor. She is a life-long learner and loves to take and teach classes, read, and watch educational videos about human behavior, neuroscience and the process of growth and well-being. Cristina loves hiking and exploring wherever she lives. She has two adult children and two grandchildren.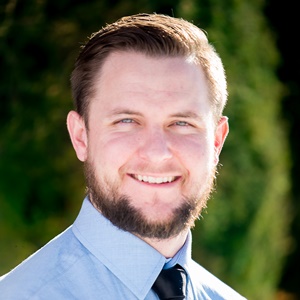 Jordan Kemp recently became our Residential Manager. Jordan will be responsible to manage our mentor staff. Jordan has been working at Mountain Springs for some time as both a mentor staff and a team leader. Jordan has already proven himself to be a valued member of our team. We look forward to his continued staff leadership.
February 2020
Taking Parent Education Seriously
At Mountain Springs Preparatory Academy, we feel parent involvement and education is essential to the process their child will be going through while at MSPA. To help our parents gain information and support, Mountain Springs has three parent seminar weekends per year. We just had a parent semiar February 13th-14th. Parent seminars include classes, parent support groups, family activities and meetings with a student's advisor and teachers. Parent Seminars are a great way for parents to reconnect with their child, while learning new skills and interfacing with the team at Mountain Springs. In addition, Mountain Springs provides three webinars per month. Webinars are provided by highly qualified team members at Mountain Springs. We also include webinars from clinicians and academic team members at the other CERTS Programs of which Mountain Springs is one. This is an amazing way for parents to garner support and education from many different high-trained professionals. All of the webinars are recorded and can be found on our CERTS Parent Education Channel where parents can watch any of the recorded webinars on demand. Currently there are over 70 webinars available to help parents learn important information and improve their own parenting skills. In January, Ariel Rhoades our Assistant Director and Dean of Students provided a webinar on Self-Care and Mindfulness: Essentials for Parents. In February, Greg Allred one of our Advisors provided a webinar about screen addiction. If you want to experience one of these helpful and informative webinars, please click on the link below to access Ariel's recent webinar.
January 2020
Starting off 2020 with a Graduation Bang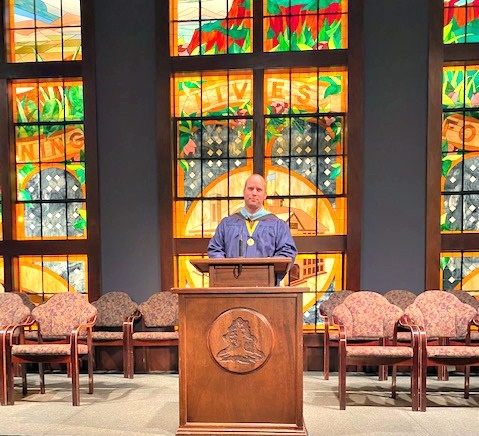 On January 10th, Mountain Springs Prep hosted the first Commencement Exercises of 2020. Mountain Springs Academic Schedule allows for students to graduate three times per year in January, May and August. Once again graduation services were held at the Hunter Conference Center on the Southern Utah University (SUU) campus. This lovely location offers our students and their families a special site for a momentous day. A total of 8 students graduated from the MSPA high school and 2 of these students also graduated from the MSPA program. Dr. Shalinin Kesar, PhD. Dr. Kesar, an Associate Professor of Information Systems at SUU was the Commencement speaker. In addition to Dr. Kesar's inspiring address, remarks were shared by Denice Daughton, our Science Teacher. Ada was chosen by her fellow students to be the student speaker at the ceremonies. Each graduating student was presented their high school diploma by Academic Director Dave Gardiner. It was an exciting day for the graduates, their families, friends, and the faculty when Dave announced that students could turn their tassels to show they were officially graduates. Congratulations graduates! You inspire us. We wish you the very best for your future!
December 2019
Wow!!! 2019 Has Been An Amazing Year!
It is already December and easy to say, "Where did this year go?" Life can get super busy and sometimes we forget all that has actually happened in the past year. Looking back at 2019, we are happy to remember some of our accomplishments and adventures. In January 2019 we officially completed building and opened up the Bridge House for our female students to add to the Bridge House for male students that we completed in 2018. This beautiful new residence is on the Mountain Springs Campus, but is separate from the other dorms allowing for more autonomy. The Bridge Program allows students to live more independently learning how to transition into college or living on their own. Students living at the Bridge Houses need to be at least 17 years old, have jobs or actively volunteer, take classes both at Mountain Springs and often at the local university, receive a monthly stipend and create a monthly budget, shop for their own groceries, make their own meals, make their own appointments, and have greater opportunities to make their own decisions. It is really a true opportunity to practice "adulting".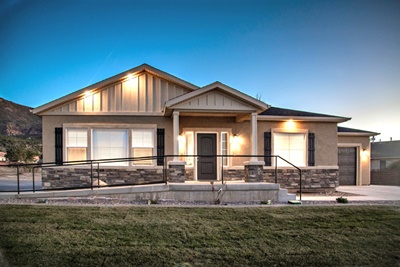 This year we also broke ground on our new Student Recreation Center!!! Scheduled to be completed in 2020, this incredible new building will bring so much to our campus with a theater, recording studio, art room, computer area and places for students to hang out and socialize. We are excited as the building process moves forward!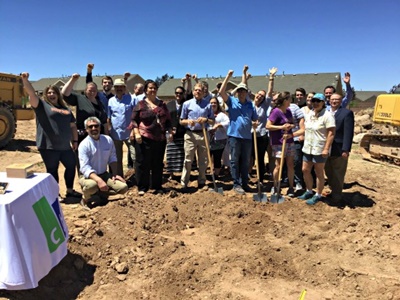 We continued our amazing adventures in 2019 with an international trek to Spain and Portugal in April, a trip to Catalina to snorkel and scuba dive in May, and our annual river trip in August. We tend to have a good time at Mountain Springs Prep learning about the world around us. Students also participated in extracurricular activities, jobs and volunteering in the community and weekly school events. We loved 2019 and look forward to what 2020 has to offer!
November 2019
Students learn that Finanical Literacy Can be Fun and Profitable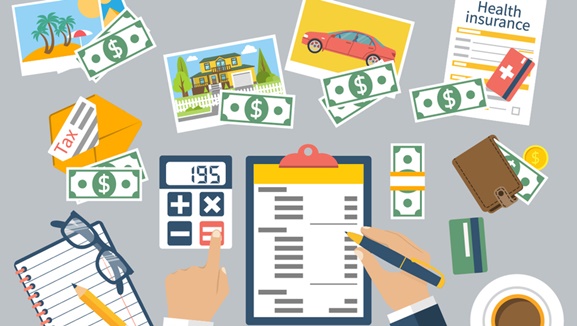 Learning to budget, pay taxes, obtain a loan, find the most competitive credit card rates or recover from identity theft might sound stressful or maybe even boring. The Financial Literacy class at Mountain Springs Preparatory Academy, taught by Becca Black is anything but! Student Ethan shared, "Financial literacy is so important and Becca is such a great teacher!"

Students are currently involved in a realistic budgeting project. Each student has chosen a desired career and a city to "live" in. Based on their chosen profession, each student was paid a salary. Students then created a budget including housing costs, car payments, insurance, utilities, cell phone, medical expenses and so much more. In an attempt to help students understand that life events can dramatically affect your budget, Becca recently assigned each student an unexpected financial situation such as a natural disaster, medical emergency or car accident. Students have since made adjustments in their budget to account for this surprise development. What a great way to learn that "real life" isn't always easy financially speaking.
Class member Aubrey said, "I have had some really hard financial things come up in my life right now and I don't have the stability that I thought I did. I just applied to my dream college and I had to try and find a way to pay for that. I had to borrow the money for the application from someone. Now I am trying to figure out how to pay that person back. This class is helping me figure out all of this. I think it is good that I am learning this now, so I won't be blindsided by finances in the future. Without this class financial literacy, I would be so much more stressed out about my future."
Learning To Be Entrepreneurs....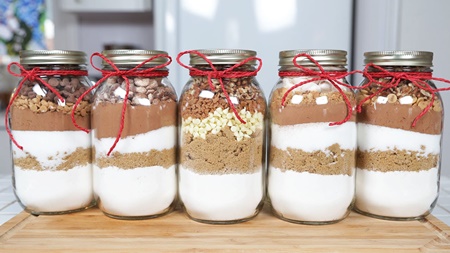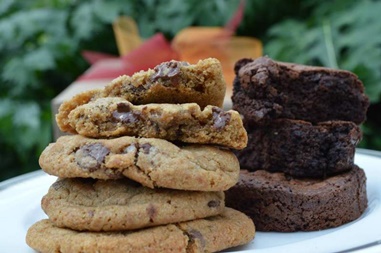 During a recent class discussion, the students asked if they could go out to lunch as a class. Becca thought it was a great idea and told the students they would need to come up with a way to fund it. Ethan suggested that they start their own business to earn the money. After brainstorming the students decided that selling baked goods would be the best way to turn a profit. They determined to take advantage of a local farmer's market to sell their product. Sophie provided a family recipe for Cowboy Cookies and together the class created a yummy brownie recipe. Both recipes could be produced at a low cost. The students made the choice to sell both fresh goods and dry mixes of their recipes. Each student invested as much capital as they could to acquire supplies. The class calculated how much they could make with the capital they had invested building a pricing and marketing plan accordingly.
Students contacted the farmer's market making arrangements to sell on an upcoming Saturday. The Friday before found students preparing their products. On the day of the event, students sold $110 of baked goods and mixes. The class had invested $55 in materials and booth rental at the Farmer's Market. With $55 of profit, the students made more than enough to fund a pizza lunch. In the following class discussions, students determined what they did well and what could have gone better. Almost all of the students had something insightful to share, and ideas for where they could have improved. Lessons learned in Becca's classroom will hopefully last a lifetime.
October 2019
Mountain Springs Students Are Doing Some Amazing Things This Fall
A key element of Mountain Springs Preparatory Academy is helping students develop into responsible individuals. We want our students to practice making healthy choices and balancing all aspects of their lives. We encourage our students to experience success and become powerful young people who are active and engaged in their community.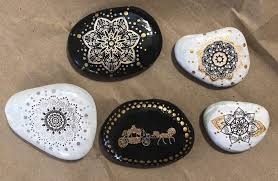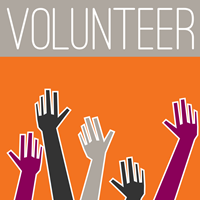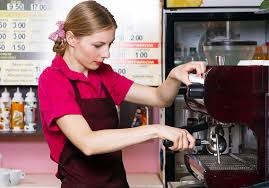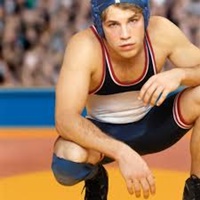 Capstone Projects
Mountain Springs' students complete a capstone project that demonstrates their leadership, community involvement and independence. Caitlin chose a Capstone Project that supported the community event Cedar City Rocks. This event brings the community together with the purpose of spreading kindness and helping people find creativity in themselves. Caitlin painted rocks, putting them in the community for people to find.
Bryson's Capstone Project involved him leading a school wide group providing tools to internalize the therapeutic work students completed in wilderness and previous residential treatment. To prepare for this group, Bryson returned to his residential treatment program to interview students and therapists.
Volunteering
Mountain Springs' students are involved in their community. Sophie volunteers at an emergency shelter for women and children escaping domestic violence. She recently helped with their "Dine Out For Shelter" event. Kelsi volunteers at the Utah Shakespeare Festival, Ethan volunteers at a veterinary clinic, and Bryson helps coach a youth soccer team.
Working
Mountains Springs' students gain independence earning and budgeting their own money. Toma has a job at Culver's and was recently promoted! Maeve has been working at a local Kroger grocery store and will be transferring to a store near her home when she graduates from MSPA. Tess is working at McDonald's, Kelsi is a barista, Caitlin recently got a job at Dairy Queen....and the list goes on!
College Classes and Extracurricular Activities
Mountain Springs' students can take college classes at Southern Utah University which proves to be a highlight for many. Other students participate in extracurricular sports at local high schools. Max is practicing with the wrestling team at a local high school, while Wayne plays on the hockey team. Matt is the star running back on the Cedar High School freshman football team. And let's not forget our co-ed softball team that just won the city championship!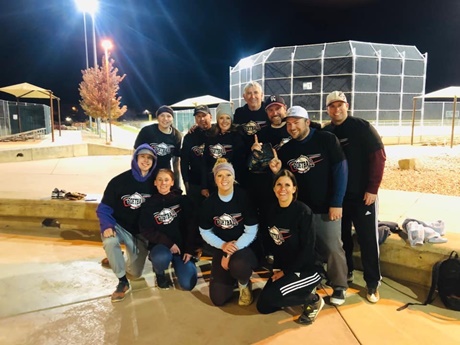 September 2019
Mountain Springs Participates in SUPA Tour
Mountain Springs is a proud member of the Southern Utah Program Alliance (SUPA). This is a new alliance that was formed during the past year amongst programs such as residential treatment, therapeutic boarding, wilderness treatment and transitional programs located in Southern Utah. Currently there are 18 such programs involved in SUPA. In September, members joined together to provide a tour of SUPA Programs to a group of 17 Educational Consultants. This wonderful week of tours provided participating consultants with a glimpse into the beautiful facilities, dedicated staff and amazing students of Mountain Springs. Mountain Springs enjoyed sharing the innovative approach to step down treatment provided on our campus. We were especially pleased that members of our team could meet some newer consultants who had not toured with us before. Thank you to our Tawny Thomas, our Director of Outreach and Business Development who took the lead at SUPA organizing and orchestrating this impressive tour. We look forward to more SUPA tours in the future!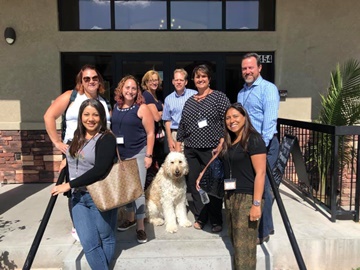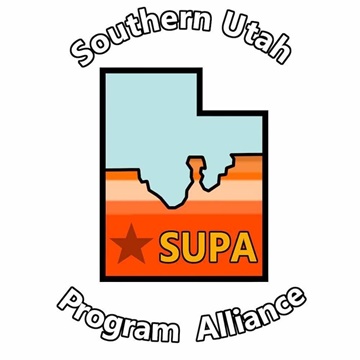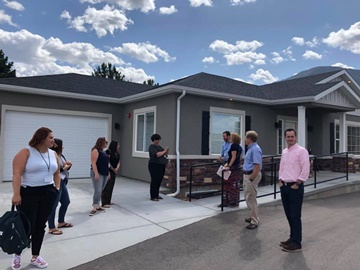 August 2019
River Trip 2019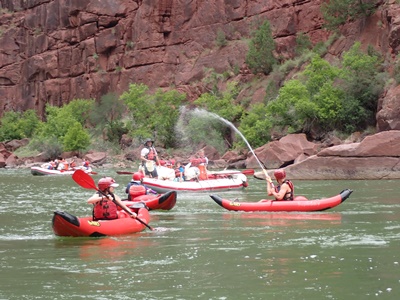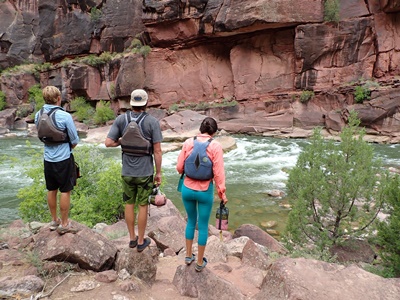 Mountain Springs offers a variety of student educational and travel experiences each school year. The annual River Rafting Trek occurred August 4th-11th on the Green River near Dinosaur National Monument. And what a trek it was! For many students it was the chance of a lifetime to see some of our country's most scenic and educationally valuable wilderness areas. Students experienced the discovery of fossils, learned about geology, braved rapids, explored their surroundings, and survived a water fight or two or three or four...

At Dinosaur National Monument students watched an informational video about the river canyon and dinosaur quarry, then took a tram to the Quarry Exhibit Hall to learn about dinosaurs and see over 1,500 real dinosaur bones (including an intact Allosaurus skull!) that were deposited over 149 million years ago along a river bank during three different floods and then fossilized into the rock that formed there. Students even got to touch a few of them! We then joined a ranger for an hour-half long interpretive talk that explained the geology of the entire park and the history of the dinosaurs. Students found fossilized clam shells from the ancient ocean that once covered the area out in the rocks on the hike, as well as found fossilized dinosaur bones in a different strata of rock (including a whole femur bone). After this talk, one student said, "I never thought rocks were interesting before – but now I know there are dinosaurs in there!"
Students and support staff launched under a clear blue sky and were almost immediately surrounded by tall canyon walls made from dark-red, precambrian quartize (over 1 billion years old and some of the oldest exposed rock on the face of the planet!). After learning that everyone would get one can of soda or sparkling water per day (a very happy moment for a few of our students) at a delightful lunch, we charged onward to make it to camp for the night. We made our first camp and people quickly fell into the delights of camp-life: hammock-time, reading/journaling, hacky-sac, talking, exploring rocks and finding shells (again, ancient shells!) – but the real highlight was a 3x3 volley ball game with the net made from two oars and a rope!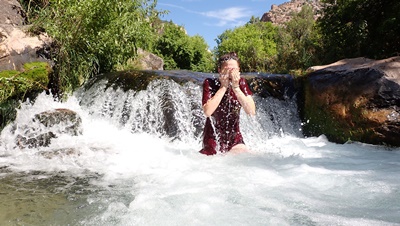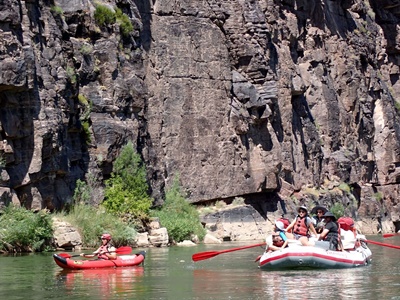 The following morning, we rose to the calls of "Hot Chocolate!" and "Hot Coffee!" which would become the alarm clock each morning. After a delicious breakfast, we launched in order to raft through our largest set of rapids on the trip: Harp Falls (class III), Triplet Falls (class III) and Hell's Half Mile (class IV). Students floated into the stunning geology of Echo Park, including Steamboat Rock, which was the site of a proposed dam that the Sierra Club worked hard to fight to keep open, and as a result of their efforts, we were able to float through today! We explored some rock art and the "whispering cave" before paddling (including more rapids for the duckies and more water fights) through the stunning geology of "Rainbow Canyon". After another great breakfast, the group set out on an afternoon of hiking (5 mi. round trip) alongside a beautiful stream (including a small waterfall that you can get behind and breath under the shelf a rock creates), learning about the Fremont people through their pictographs and petroglyphs on the canyon walls, finding fossils and playing in a waterfall that you can dam with your behind and then have explode over the head of the person waiting below. One student said at the pictograph panel, "I've never been interested in history until now."
On the last morning, students again floated some flatwater and were greeted by a beautiful bald eagle at the entrance to Whirlpool Canyon, the final rapids of the trip – which included three class III rapids and a ton of other fun white water for the final two groups of duckiers. Our group was also treated to seeing a total of 9 more bighorn sheep (one with a full curl and two others that were babies) on our float to the take out.
This is the breadth of education at Mountain Springs: teacher led instruction in modern classrooms, combined with out-of-the-box experiential and outdoor learning adventures. It's no wonder the students at Mountain Springs reengage in the love of learning.
July 2019
Mountain Springs Hosts Southeren Utah Program Teacher Summit
On Wednesday July 10th, Mountain Springs Preparatory Academy hosted the first annual Southern Utah Program Teacher Summit. Planned and organized by MSPA Academic Director Dave Gardiner and Kolob Canyon Academic Director Susan Mackert (both CERTS Programs), this wonderful conference brought teachers and administrators together to discuss the needs of students in therapeutic settings and residential treatment. Keynote Speaker Eric Bonnett, LCSW started off the conference talking about how students with a background of trauma learn. Informative breakout sessions followed throughout the day. Sessions included discussions about accreditation, authentic assessment, teacher self-care, experiential learning, strategies for managing executive functioning issues, using improv comedy to improve retention, mindfulness and validation in the classroom, and student directed learning models. There was also a chance for round table discussions among disciplines and of course there was some fantastic food! We cannot wait until next year's summit.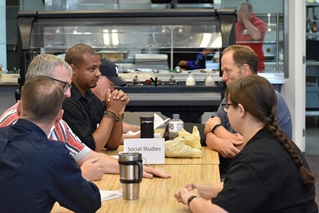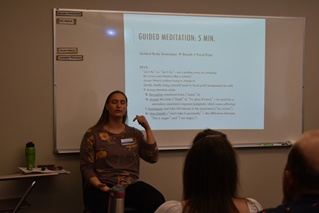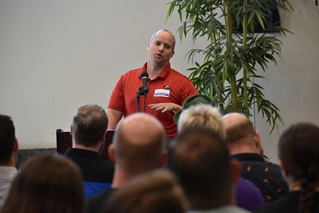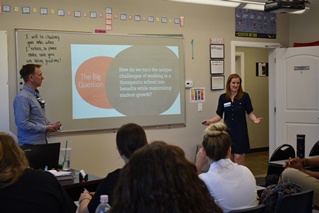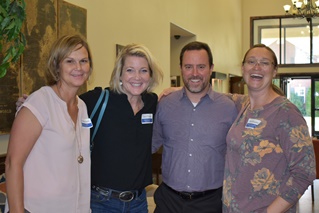 June 2019
Breaking Ground on New Student Recreation Center
On Friday June 28th, Mountain Springs Prep officially broke ground on a new Student Recreation Center. This beautiful new building--a Craftsman with a modern edge--will add so much to the campus when it is completed in 2020. The Student Recreation Center will be over 6300 sq feet. It will include common areas, a movie theater, recording studio, computer space, an art area and so much more. In addition the new building will include a student quad area for additional outside student activities. Most importantly this wonderful new building will provide our students with space to hang out together and work on social relationships. It is exciting to see the changes that have occured at Mountain Springs Prep since 2004. In that time we have added a new academic building, renovated our dorms, added two Bridge Houses for independent living and now this fantastic new Student Recreation Center. We are excited to be working again with Choice Builders. We look forward to watching the progress being made over the next months as we realize our dream.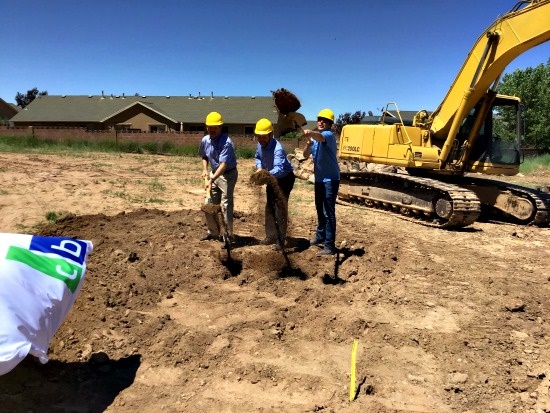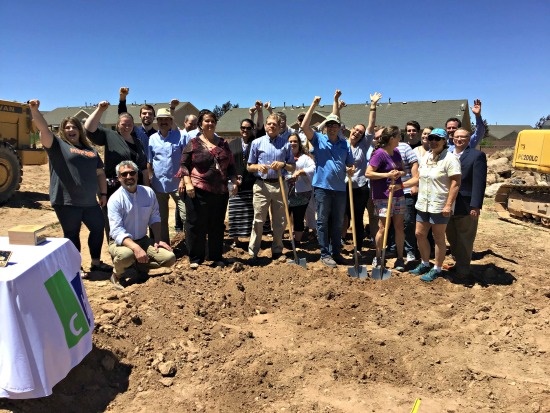 May 2019
Mountain Springs Honors Class of 2019 at Commencement Ceremonies
On Friday May 17, 2019 Mountain Springs held its Spring Commencement Exercises at Southern Utah State University. A total of five students graduated with high school diplomas and six students graduated from the program at Mountain Springs Preparatory Academy with three students accomplishing both. Principal John Dobbs from Cedar High School was the graduation Guest Speaker. High school dipolmas were handed out by Academic Director Dave Gardiner. Each program graduate was honored by their student advisor. Each year we are excited when our graduating students are accepted to colleges and universities they have applied to. It is wonderful to see them advance to campuses of higher education with the academic and life skills learned at Mountain Springs Prep. Students graduating with the Class of 2019 were accepted to a number of different colleges and universities including Oregon State University, Arizona State University, Whitman College, Colorado State University, and a number of California State University campuses--California State University Chico, California State University Fullerton, California State University Montery Bay, California State University Northridge, and California State University Sonoma. One of our students earned scholarships to Evergreen State College, Oregon State University, University of Pudget Sound and Whitworth University. We are so proud of our graduates and all that they have achieved. We wish them the very best!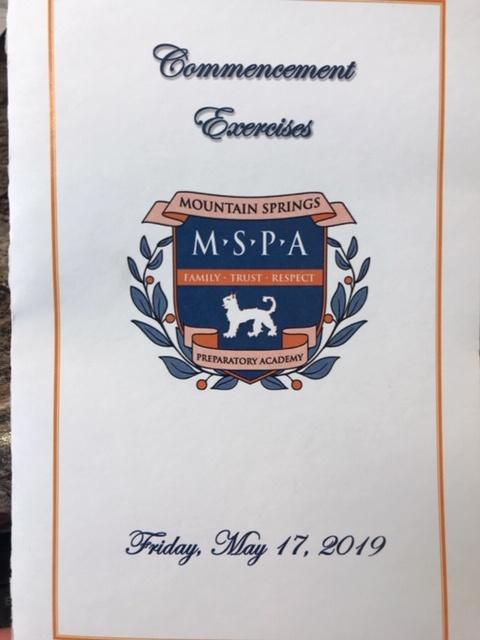 April 2019
Mountain Springs Students Experience Portugal and Spain on 2019 International Trek
Each year Mountain Springs provides an International Trek--an amazing way to experience new cultures, see fantastic sights, eat amazing food and take the learning outside the classroom. This year our adventure took us to Portugal and Spain. We discovered Lisbon exploring through downtown and the viewpoints and waterfront, navigating the subways and buses, Rossio Square, the Arch of Rua Augusta, San Jorge's Castle, Alfama, The Lisbon Cathedral, the Oceanario (Aquarium), incredible food, even better gelato, the Monument to the Explorers, Belém Tower. And stairs, lots and lots of stairs. Getting out of the big city and into the countryside and Sintra, Portugal just grew more and more beautiful with each passing mile. We loved Quinta Da Regaleira, an awe-inspiring estate complete with a castle, chapel, towers, spiraling wells to descend - and ascend,mini castles and an entire park of lush gardens and underground labyrinths.

Spain was next! Seville during Holy Week is quite an experience. We toured the Seville Cathedral, with a tour of the rooftop and city views, to the Plaza de España where some of us rented the small rowboats in the canal circling the front of the grand edifice. The Plaza's ornate style and bright tiled lampposts were truly iconic. A day in Malaga was next where we dipped our toes (or crazily for a few, their entire bodies) into the frigid Mediterranean Sea. The final days of the Trek were spent in Madrid and Granada, a beautiful sprawling town, mixing old with new on every block.

For many of our students this was a once in a lifetime experience. Many thanks to Jon Larsen, Executive Director who planned this amazing adventure. We can't wait to see what next year brings!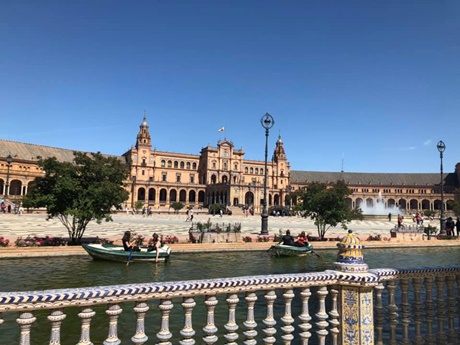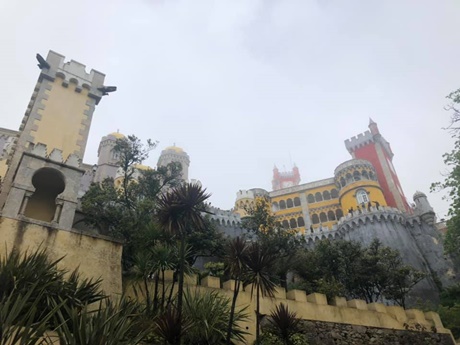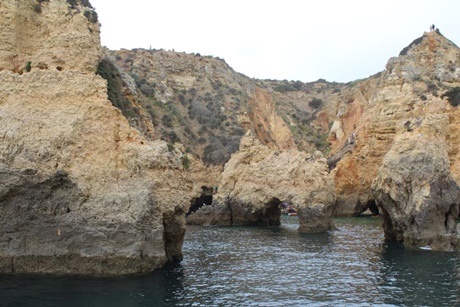 March 2019
Mountain Springs Students Receive Awards from SUAIC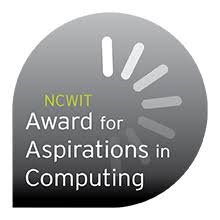 Southern Utah Aspirations in Computing (SUAIC) honors women in grades 9 through 12 who are active and interested in computing and technology, and encourages them to pursue their passions. According to the National Center for Education Statistics, more than 57 percent of college undergraduates are women, yet only 18 percent choose STEM fields (science, technology, engineering, and mathematics) for a career. Despite this national lack of female participation in computing and technology, southern Utah is showing initiative on this front. Southern Utah University is partnering with the National Center for Women in Information Technology (NCWIT) to reverse the trend in rural areas by sponsoring a competition for girls who are active and interested in computing and technology. This year 98 girls competed from high schools throughout southern Utah and Nevada. The competition is a platform for aspiring young women to showcase unique software coding, web design, and information technology skills. The culmination of the competition will be an award ceremony held March 23, 2019, at SUU. Awards for Aspirations in Computing recipients are chosen for their demonstrated interest and achievements in computing, proven leadership ability, academic performance, and plans for post‑secondary education. Mountain Springs Preparatory has 14 students who will be honored with awards! Four students will be honored as Winners, two students with Honorable Mention and eight students with the award of Rising Star. We are SO proud of these students!
February 2019
Parent Weekend held February 14-February 17
We feel honored to work with the parents and families of our students. We especially enjoy when parents are on campus for Parent Weekend. Parent Weekends are held three times per year in February, June and September. These weekends are the perfect way for parents to connect with teachers, advisors and their student. Parents also participate in parenting workshops and parent support meetings. And probably the most important part of any Parent Weekend is time parents and students spend together connecting and having some fun. The first Parent Weekend of 2019 was held the weekend of February 14th-February 18th.
On Thursday February 14th parents and students spent the day in individual meetings with teachers, advisors and other administrative team members. These meetings are a fantastic way for teachers and advisors to share how a student is doing, talk about growth and strengths, and discuss areas where there is still work to do. Parents, students, teachers and advisors ensure they are communicating well with a focus on problem-solving and success. On Thursday parents also participated in a Parent Meeting which provides parents with the opportunity to connect and share feelings.
Friday morning February 15th parents had the wonderful opportunity to experience a meditation exercise with Ariel Rhoades, Assistant Head of School. What a marvelous chance to learn mindfulness! Parents were then involved in a group workshop taught by Scott Jakubowski, PhD., LMFT. Scott is one of the amazing community therapists that provide clinical services to Mountain Springs students. This interactive workshop helped parents enhance their parenting skills while learning new ones. In the afternoon, parents participated in another workshop facilitated by Ariel. The topic of this workshop was, "Lesson from Transition: Learn about and prepare for the challenges you and your child will face leaving BEFORE you leave!"
Saturday and Sunday were all about spending time as a family with free time to go to movies, do some outdoor recreation, eat out and just hang out talking. What a wonderful weekend!
January 2019
Commencement Exercises held on January 11, 2019
Three times per year in January, May and August, Mountain Springs Prep hosts a graduation ceremony. Students graduating from high school at Mountain Springs Prep as well as students graduating from the daily program are recognized in these memorable ceremonies. On January 11, 2019 at the Southern Utah University Great Hall, Commencement Exercises were held for eight students graduating from Mountain Springs Prep High School and two students graduating from the daily program. Bryan Stewart, Professor of Accounting at Brigham Young University was the Guest Speaker. Additional speakers included Math and Science Teacher, Becca Black and one of our amazing graduates, Luke. Advisors shared a spotlight for each student graduating from the program. Academic Director, Dave Gardiner provided the ceremonial presentation of graduates. There was a lot of excitement as the students turned their tassel to show they are now high school graduates. It was a wonderful day to celebrate and honor these young men and women who have worked so hard. Congratulations to all of our graduates!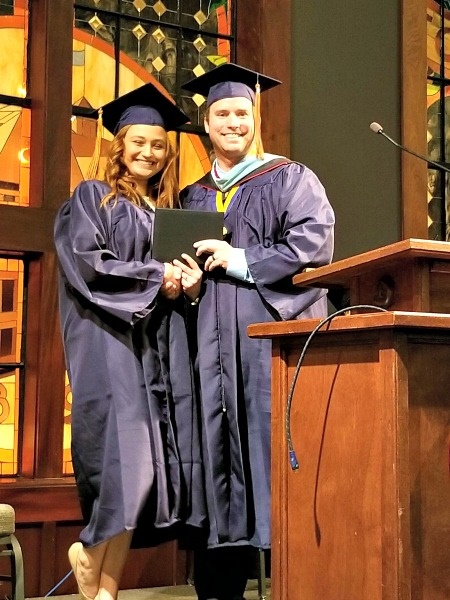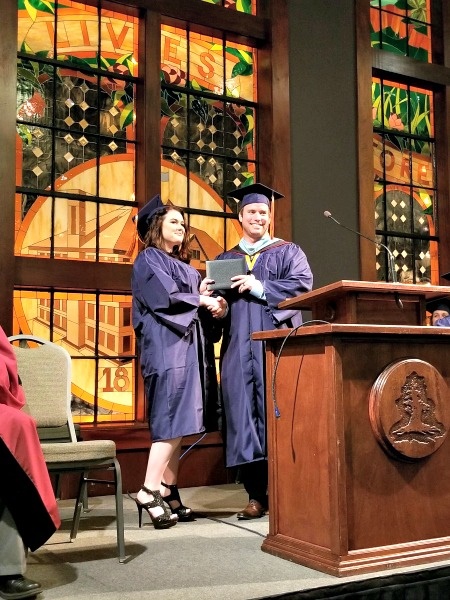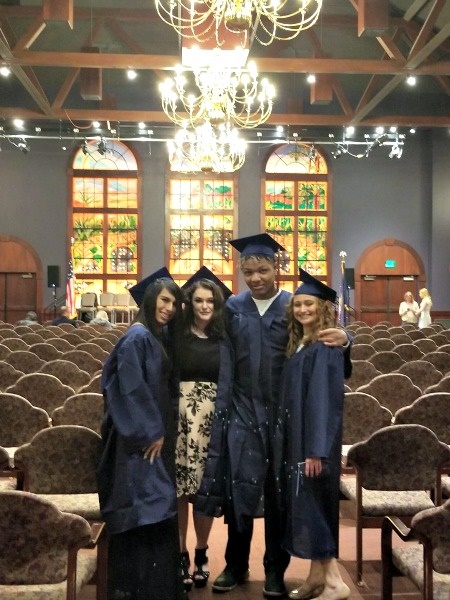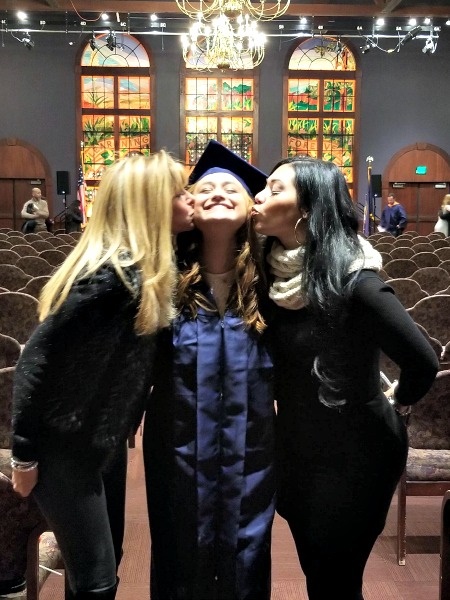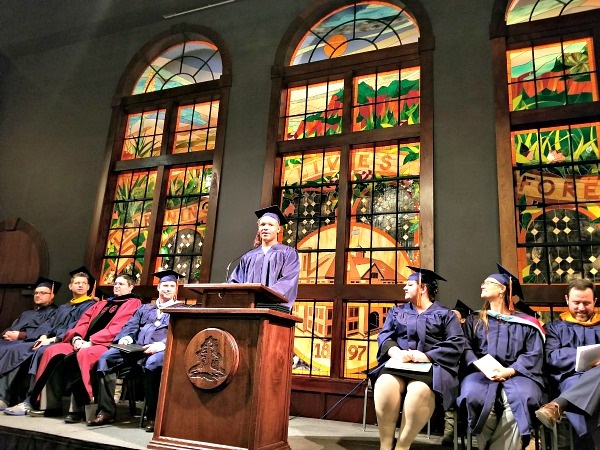 December 2018
Student Government Empowers Students at Mountain Springs Preparatory Academy
At the beginning of August 2018, student government made its debut at Mountain Springs Preparatory Academy. To participate in student government is a privilege. At the beginning of this term, interested students applied to the faculty and then once approved, ran for office. Six students were elected—President, Vice President, Student Relations Officer, Campus Improvement Officer and two student representatives.
Student government is student led and faculty supported. Under the guidance of the MSPA Activity Director Talon Cocker, student government officers and representatives meet twice per week. Once a week, an additional faculty member is invited to attend their meetings as well. During meetings officers and representatives review school policies, receive staff feedback, discuss campus improvement ideas, talk about how they can improve student relations and plan student activities. In addition, the Student Government President presents weekly in school management meetings. This process is working extremely well. Since August, student government has reviewed and successfully modified the clothing policy and have added healthy menu alternatives in the cafeteria. Other accomplishments have included planning off-campus student activities and a Halloween Party. Projects in the works right now include a Secret Santa for the student body and designing sweatpants for students and specifically for the Triathlon Club.
One of the most influential activities implemented by student government was the establishment of the Welcoming Committee. It was important to student government members that new students have a positive experience on their very first day. The concept of the Welcoming Committee was originally started by a current student as her capstone project. Student governement felt it was essential to continue this new tradition. New students are met as they arrive by a member of the Welcoming Committee. They are given a card which welcomes them to MSPA letting the new student know who their student advisor will be. Student advisors are meant to be peer mentors that new students can turn to with questions or when they need a friend.
So far student and faculty feel that student government has been a huge success. Student Relations Officer Lauren said, "Being in student government has allowed me to influence the school positively on a bigger platform."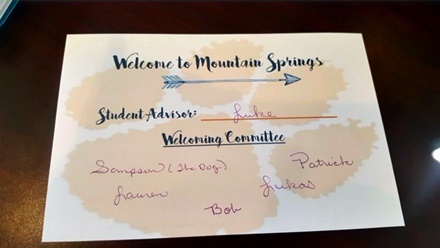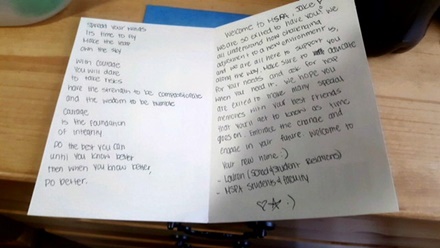 Students Decorate Windows for the Holidays

November 2018
Students Create Works of Art in Our Own Art Room
The art room at Mountain Springs is a favorite place for many students. This beautiful room provides students with a space to sketch, paint and create. Many students find art to be very therapeutic and an essential aspect of their daily lives and journey of healing. Recently students have been working on improving their sketching skills as they recreate aspects of the human face. This project demonstrates the talent of some of our amazing students. This project has also provided students with the opportunity to reflect their own emotions in their sketches. In addition students have also sketched or created other drawings or paintings including a wonderful portrait of our school dog, Sampson. This beautiful artwork is on display in the art room and in the hallway surrounding the art room.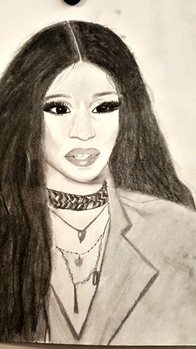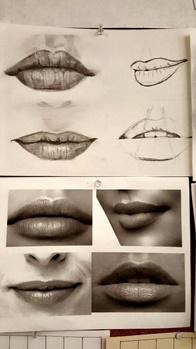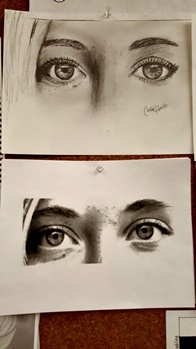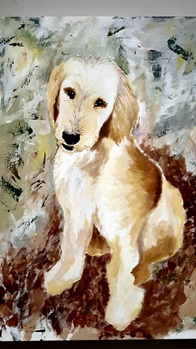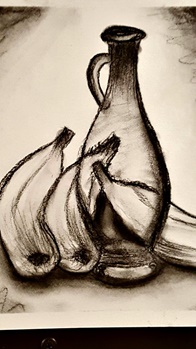 October 2018
Students Compete in two Triathlons:
Triathlon? You bet! A group of students and staff at Mountain Springs have been busy this summer and fall training to compete in some are triathlons. In early September the students and staff competed in the Sand Hollow Triathlon...and had a blast! Not only did they have fun, but they placed pretty well too with one student finishing 3rd in his age group division. The staff/student relay team finished 2nd (only a few seconds behind the first team) in their beginner division. This same group competed again on October 20th at the Pumpkin Man Triathlon at Boulder Dam, NV. At this triathlon the students faced much more fierce competition with teams from all over including many college teams. The swimming leg of this triathlon was in Lake Mead which was not an easy course. Despite the tough competition, the relay team finished 4th in their division. The students and staff are now feeling very motivated about the season to come in 2019! There is also talk of starting a traithlon club so that more students can participate in this amazing adventure. Thank you to our committed staff for training with the students and for encouraging them throughout this process.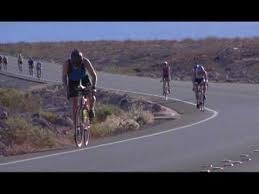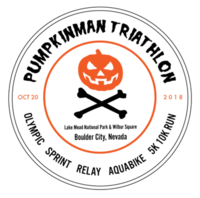 September 2018
Girl's Bridge House Opens:
After months of construction, the new Girl's Independence Bridge House is completed! Student's in the Bridge Program were excited to move into their new "digs" on September 27th. This beautiful new home is currently the home to 4 students, with a capacity of 8 students. While the Bridge to Independence Program has been functioning at Mountain Springs, the new houses provide students with an environment that is condusive to increasing levels of self-initiative, responsibility, and independence in their lives. The Bridge Program is a continuation and enhancement of the Mountain Springs Preparatory experience and is not a stand alone program. The new beautifully built and decorated house will provide 8 additional beds for female student. The Boy's Bridge House opened up in May of 2018 and also has the capacity of 8 students. Students who participate in the the Bridge to Independence and live in the independence houses:
Have demonstrated leadership and are self-governing their actions while enrolled at Mountain Springs Prep
Are at least 17 years old
Currently a senior in high school
Have a job or are volunteering in the community